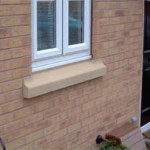 Ilam Stone Litestone Heads and cills closely match cast stone in texture and colour whilst being only one third the weight of its dry cast equivalent.
Most pieces are within manual lifting recommendations a 1405 dry cast cill weighs approximately 61kg whereas the litestone product weighs approximately 22kg. Less weight = Improved handling, less damage.
Litestone is ideal for all large housing developers being available in a standard range of sizes and colours.
Technical Data
Property
Semi-Dry
Litestone
Manufactured to
BS 1217
BS1170 Part 5
Mean Compressive Strength
35N/mm2
70N/mm2
With no result less than
28N/mm2
55.5N/mm2
Water Absorbtion (CAP)
1.00mg/mm2
0.68/mm2
With no individual figure exceeding
1.3mg/mm2
0.68mg/mm2
On a 1500mm long x 140mm x 100mm Head, the component cracked at 1.38 KN, based on a 'Point Loading' over 100mm. The tests were performed without using any form of support lintel. The above allows brickwork to be built off the Litestone (as per Cast Stone) with supporting Lintel Catnic below.
We Offer The Following Services & Products
Architectural Cast Stone
Wet Cast Stone
Lite Stone
Range of Colours
Architect Support Services
CAD Drawing Service
Sales from Yard
Regular Clearance Lines
Sales to self builders
Contact
Telephone: 01773 520088
Lydford Road,
Meadow Lane Industrial Estate,
Alfreton,
Derbyshire,
DE55 7RQ
Hours of business
Monday-Friday:
8:30am – 5.00pm
Saturday & Sunday:
Closed