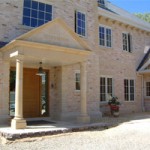 Ilamstone's range of Cast Stone is a excellent example of time honored craftsmanship combined with modern technology working together in perfect harmony.
The result is a wide range of Cast Stone products of exceptional quality with no compromise to aesthetic appeal.
Installation of cast stone should be carried out by experienced operatives.
Stooled Cills – To prevent cracking after installation only the ends and cill joints should be bedded on mortar. The joint below should be left open and pointed up after the brickwork is finished.
Slip Cills – Should be fully bedded down on mortar
Decorative Heads – Should be used in conjunction with a suitable load-bearing lintel. To reduce the risk of cracking, the Head should be fully bedded down on mortar along the entire length of the load-bearing lintel. This ensures that any load above the Head is fully and equally distributed on the load-bearing lintel.
Movement Joints – Vertical movement joints should occur at intervals of 6 meters in long lengths of walling.
Mortar Recommendations – Premixed coloured mortars are available containing lime, we would recommend that a grade of 1:1:6 (Cement: Lime: Washed Sand) is used as this will give a lower permeability and give a greater resistance to rain penetration. In addition, voids and hairline cracks, which may develop in lime mortars, tend to seal themselves over a period of time.
Fixings
Cast in Stainless Steel Dove Tail Anchor Slots (100mm long) are provided in Window & Door Jambs (with an appropriate Wall Tie). M10 and/or M12 Fixing Inserts are provided in 'Portico' assemblies. M12 and/or M16 Lifting inserts can be incorporated in heavy units (at an additional cost), it is important to observe the relevant advice for 'Manual Handling on site ' in order for the Specifier to meet their CDM Regulations responsibilities.
Location dowel holes can be provided in units such as Balustrade Pillars, Window and Door Jambs, Mullions, Heads and Cills and in certain instances the ends of Copings to accommodate stainless steel or polypropylene pins (supplied by others) and proprietary fixing systems (also supplied by others).
Handling
Wet Cast Product. For health and safety reasons all Cast Stone Dressings greater than 600mm in length contain handling bar/s. M12 fixing or lifting sockets for use in conjunction with lifting loops (supplied as necessary) can be incorporated, on request. Items that require more than one lifting eye should only be lifted by use of a lifting beam so that side loads are not imposed on the sockets. In certain cases, sockets are included to assist factory handling.
New installation guidance for our copings is now available. Click Here to download.
---
Download PDF Data Sheets for Installation Advice

Click to download a full set of Ilam Stone Portico installation Advice PDFs.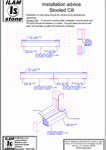 Click to download a full set of Ilam Stone Cills installation Advice PDFs.
Contact
Telephone: 01773 520088
Lydford Road,
Meadow Lane Industrial Estate,
Alfreton,
Derbyshire,
DE55 7RQ
Hours of business
Monday-Friday:
8:30am – 5.00pm
Saturday & Sunday:
Closed