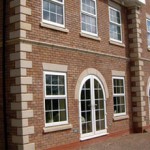 A quoin is a corner stone which is 'L' shaped on plan allowing the cavity to remain constant throughout the building.
Being made from a mould, we can ensure that every Quoin is identical in size, shape and finish ensuring an easy fix on site.
Quoins are available in a range of colours and we can also make other sizes or designs if our standard range does not meet your requirements.
Examples of Ilam Stone Quoins
Click the image to view the larger image


Click on the image of the Quoin data sheet to download a full set of Ilam Stone Quoin PDFs
We Offer The Following Services & Products
Architectural Cast Stone
Wet Cast Stone
Lite Stone
Range of Colours
Architect Support Services
CAD Drawing Service
Sales from Yard
Regular Clearance Lines
Sales to self builders