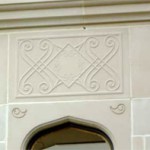 All Ilam stone products are cast in timber, resin or steel moulds. All moulds are constructed to a high degree of accuracy from workshop drawings produced in house using the latest CAD facilities. Our own skilled mould makers produce most of the moulds required.
Many individual designs are inspired by classical architecture or more decorative styles. These unusual sizes, intricate or irregular shapes and special colours can,in most cases, be made to suit your particular project. We will liaise with your designer or architect to create purpose-made products to your specifications.
Sourced from naturally occurring high-grade limestone and sandstone aggregates together with cement, pigments and waterproofing agents, Ilam Stone Architectural Cast Masonry is manufactured to BS 1217:2008 specification for 'Semi Dry' products. Kiwa Construction Material Testing, a Derby-based independent laboratory, carries out periodic testing of products for both crushing strength and capillary absorption. Copies of the results are available on request.
General guidance can be found in the following British Standards:-
BS5390 Code of Practice for Stone Masonry
BS5628 Code of Practice for the use of Masonry
BS6399 Design Load of Buildings
BS6100 Glossary of Building and Engineering Terms
BS8000 Code of Practice for Masonry
We Offer The Following Services & Products
Architectural Cast Stone
Wet Cast Stone
Lite Stone
Range of Colours
Architect Support Services
CAD Drawing Service
Sales from Yard
Regular Clearance Lines
Sales to self builders
Contact
Telephone: 01773 520088
Lydford Road,
Meadow Lane Industrial Estate,
Alfreton,
Derbyshire,
DE55 7RQ
Hours of business
Monday-Friday:
8:30am – 5.00pm
Saturday & Sunday:
Closed