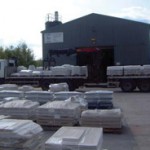 All components are carefully hand packed on to timber pallets; each layer of products is separated using timber laths wrapped in non – staining impact foam with individual products being separated by polystyrene spacers. Each window component is individually marked to identify its build position.
The pallet is then shrunk – wrapped and carefully banded to ensure that each component is secured within a taut and stable pack. Each pallet will be accompanied with a consignment note to identify the components within the pallet and its destination/ plot number.
Each pallet is then carefully moved to our storage area where it is kept until it is required for delivery to site.
The curing period for cast stone is generally 14 days – deliveries or collections inside this period are not recommended but can be facilitated providing the customer carries the responsibility for any subsequent damage or failure 'Ilam stone' Architectural Cast Masonry will weather in much the same way as natural stone in similar circumstances.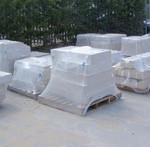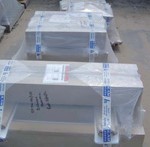 Ilam stone Cast Stone products are supplied banded and shrunk-wrapped on pallets for ease of handling. Care should be taken at all times when moving the Cast Stone around the site. Please read the following guidelines:
Pallets should be stored on flat ground and not double stacked.
The shrink-wrap cover should be carefully removed by cutting; this will avoid damaging the edges of the components. Once opened pallets should be left covered to afford protection to the components against water and/or dirt.
Products should not be stored face to face without the use of a suitable packaging material.
After installation, it is recommended that masonry products be protected against damage from other on-site work.
Cast Stone products are manufactured for the construction of walls and structures in accordance with standard and local code of practice.
Packs should always be lifted using the pallet. It is recommended that suitable handling forks should have a width of 90mm and a length of 1100mm.
We Offer The Following Services & Products
Architectural Cast Stone
Wet Cast Stone
Lite Stone
Range of Colours
Architect Support Services
CAD Drawing Service
Sales from Yard
Regular Clearance Lines
Sales to self builders
Contact
Telephone: 01773 520088
Lydford Road,
Meadow Lane Industrial Estate,
Alfreton,
Derbyshire,
DE55 7RQ
Hours of business
Monday-Friday:
8:30am – 5.00pm
Saturday & Sunday:
Closed