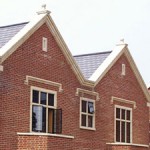 A Gable Vent is a feature stone which are more typically used on traditional properties; which can be used as an air vent. Open vents are supplied with a mesh barrier.
Standard cast stone gable vents are available in a range of designs and colours.
If required, a bespoke gable vent can be produced in a variety of colours which will match most properties.
Examples of Ilam Stone Gable Vents
Click the image to view the larger image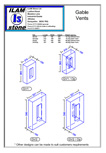 Click on the image of the Gable Vent data sheet to download a full set of Ilam Stone Gable Vent PDFs
We Offer The Following Services & Products
Architectural Cast Stone
Wet Cast Stone
Lite Stone
Range of Colours
Architect Support Services
CAD Drawing Service
Sales from Yard
Regular Clearance Lines
Sales to self builders