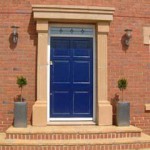 Ilam Stone produces 8 standard door surrounds that can be manufactured in a variety of colours. Designs will suit most type of property including, domestic contemporary or traditional and commercial properties.
Working directly with architects, Ilam stone can provide other door surrounds to suit customer specific client requirements.
As with all Ilam stone products, they can be supplied in bulk for contractors or in small numbers for a self builder or home renovator.
Pictured below are just a small sample of the door sourrounds we can provide.
Examples of Ilam Stone Door Surrounds
Click the image to view the larger image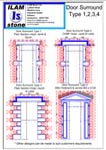 Click on the image of the Door surrounds data sheet to download a full set of Ilam Stone Door surround PDFs
We Offer The Following Services & Products
Architectural Cast Stone
Wet Cast Stone
Lite Stone
Range of Colours
Architect Support Services
CAD Drawing Service
Sales from Yard
Regular Clearance Lines
Sales to self builders