String course or band course is a feature stone which goes round the building. Ilam Stone string course stones are available in a variety of colours which will complement most building schemes.
If your project requires a bespoke string course, please call us for details of how we can help with producing specific items for a client.
It can also be placed under the eaves. For details of each type of cornice please see data sheet download on the right.
Examples of Ilam Stone String, Band & Cornices
Click the image to view the larger image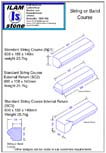 Click on the image of the String, Band & Cornice data sheet to download a full set of Ilam Stone String Cornice PDFs
We Offer The Following Services & Products
Architectural Cast Stone
Wet Cast Stone
Lite Stone
Range of Colours
Architect Support Services
CAD Drawing Service
Sales from Yard
Regular Clearance Lines
Sales to self builders