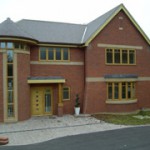 It is particularly difficult to remove mortar from the surface of cast stone. It is for this reason that every effort should be made to avoid contamination.
The removal of mortar from the surface can be effected by physically removing as much of the mortar as possible (scraping, grinding etc.), followed by mild acid washing.
Cleaners
The use of strong acid cleaners should be avoided on cast stone materials. Contamination due to cleaning of higher courses of brick or other materials should be avoided. Oil and grease can be removed by using a chemical degreaser. As with all treatments, this should be tried on a small insignificant area first to investigate any shade variation that may be caused. Cleaning finished cast stone at the end of construction period should be in accordance with the relevant section of BS 6270: 1985.
Efflorescence
Common to all cementitious-based products, there is a possibility that efflorescence may occur, causing a lightening of the surface colour.This is a temporary phenomenon which will not impair the performance of the product in respect of its durability or strength. Given time, when subject to normal weathering, the efflorescence will diminish and eventually disappear completely.The risk of occurrence of efflorescence will be reduced by protection on site before and during installation. Whilst, it is better to allow the phenomenon to disappear through the weathering process, it may be removed by the use of a proprietary acid cleaning agent (dilute hydrochloric acid). The item, which requires cleaning, should first be soaked with clean water, followed virtually immediately by the application of the cleaning agent, strictly in accordance with the manufacturers instructions and Health and Safety Guidelines. When the cleaning agent has completed its work thoroughly wash down the item with clean water.
Download PDF Data Sheets for Installation Advice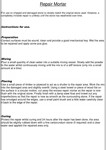 Click to download a full set of Ilam Stone Maintenance advice PDFs.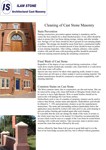 Click to download a data sheet on cleaning cast stone.
Contact
Telephone: 01773 520088
Lydford Road,
Meadow Lane Industrial Estate,
Alfreton,
Derbyshire,
DE55 7RQ
Hours of business
Monday-Friday:
8:30am – 5.00pm
Saturday & Sunday:
Closed