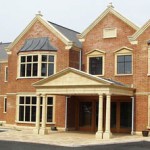 A Portico is a decorative feature to surround a door entrance, creating a spectacular grand entrance to any property, domestic or commercial. It can be fixed either to a steel frame (supplied by others) or to a concrete beam. A data sheet is attached to show both types of fixing and the details of our standard Portico.
We have vast experience of working with developers and architects to ensure that porticos are developed and delivered in perfect condition ensuring the install goes as smoothly as possible.
If our standard portico range is not quite what you were looking for, please contact us to discuss your specific requirements as we can develop many other designs to order.
Examples of Ilam Stone Porticos
Click the image to view the larger image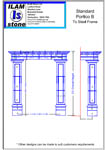 Click on the image of the Portico data sheet to download a full set of Ilam Stone Portico PDFs
We Offer The Following Services & Products
Architectural Cast Stone
Wet Cast Stone
Lite Stone
Range of Colours
Architect Support Services
CAD Drawing Service
Sales from Yard
Regular Clearance Lines
Sales to self builders